Frog Legs are a delicacy here in Vietnam, and also in the broader region, for that matter. Combine them with Lemongrass and Chili, and you have a classic Vietnamese food combination that is simply delicious.
Today I find myself in the kitchen of my good friend Trinh. Trinh and her family run a small homestay through Airbnb from her house in Saigon's District 7.
Here, she welcomes guests into her home by renting out spare rooms, runs informal cooking lessons for them, and offers them a chance to visit the local market when she is shopping for the fresh ingredients for the lessons.
It had always sounded like an interesting experience so, when one day Trinh asked me over for a lunch of frog legs, including a chance to visit the local market, naturally I jumped at the chance.
Luckily for me, Trinh agreed to me posting her recipe here on the blog, as well as a few photos of her cooking to show you how she did it.
Now, if frog's legs aren't your thing, then good substitutes are firm fleshed fish or chicken. I actually tried this recipe with fish back in Australia, and it tasted terrific.
Before we get to the recipe though (which is at the bottom of the post if you're in a hurry), I thought I'd give you a quick look at the local market (Cho Rach Ong) where we bought the fresh ingredients that morning.
For today's lunch, Trinh had already ordered some frogs from a small street vendor near her house, so on the way back from the market we stopped by the vendor who brought the live frogs out for inspection.
Once Trinh was satisfied with the frogs, the vendor dispatched them for us on the spot.
I can guarantee you that the process of dispatching the frogs is not for the faint-hearted (the vendor uses scissors); however, it seemed to be very efficient and as humane as these things go.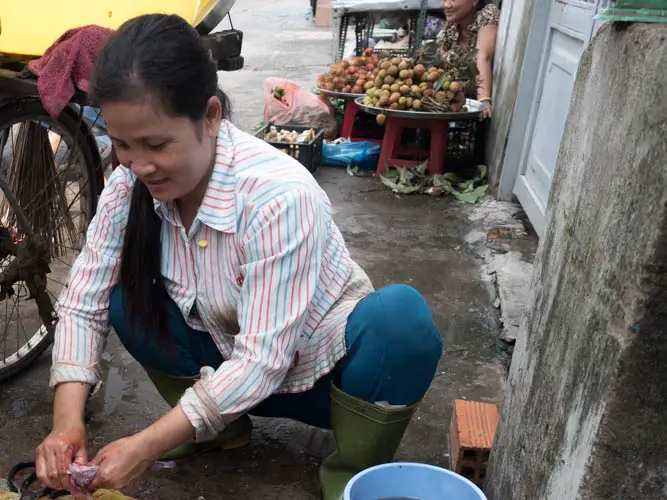 Once back at the house, Trinh removed the legs ready for cooking. There are many different uses for the rest of the frog, but that will need to be a post for another day.
So, here we are –
Trinh's Frog Legs with Lemongrass and Chili (Serves 2)
Ingredients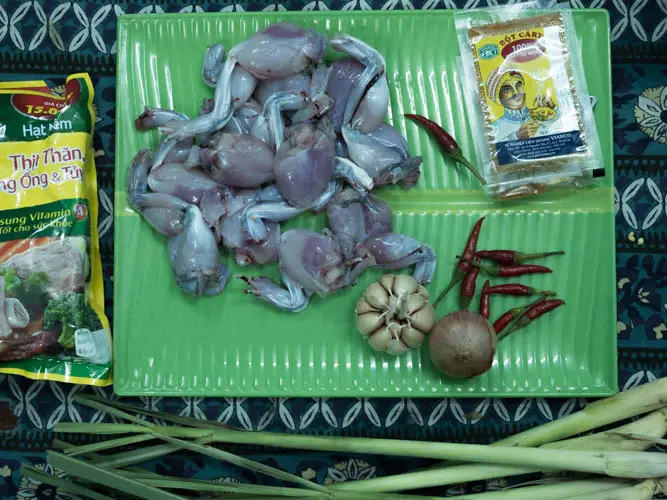 4 pairs of large (6 pairs medium) frog legs
4 lemongrass stems
4 cloves of garlic
2 chilies (or more to taste)
1 small shallot
1 tsp curry powder
1 tsp chicken powder (Trinh uses Knorr)
Method
Wash the frog legs under cold running water with a little salt. Dry and set aside.
Peel the outer layer of the lemongrass and finely slice it (white part only). Finely chop the shallots, garlic, and chilies.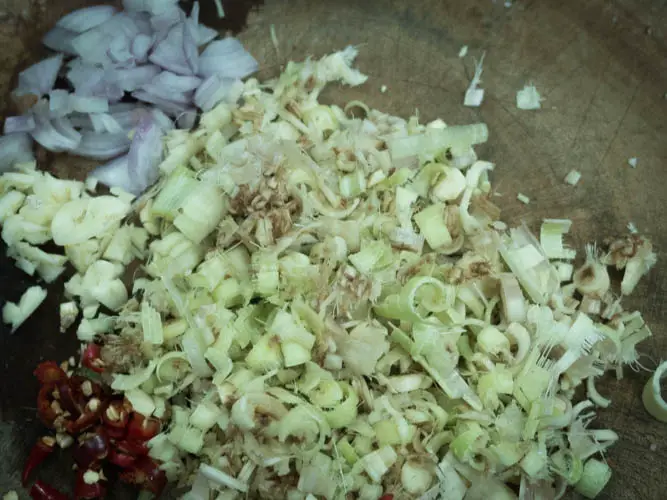 In a bowl, add the frog legs, half the chopped ingredients, and the curry and chicken powder. Stir and let marinade for 20 minutes.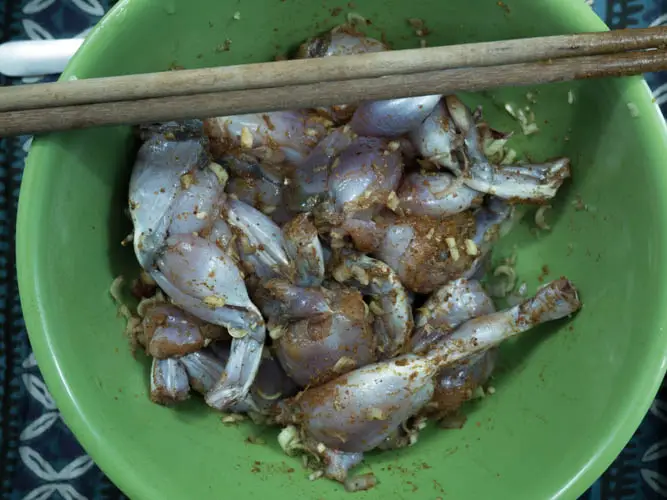 Over medium heat, add the remaining garlic and shallots to the oil. Cook for a few minutes until aromatic.
Add the frog legs and marinade mixture (not the juice). Cook until brown then reduce the heat.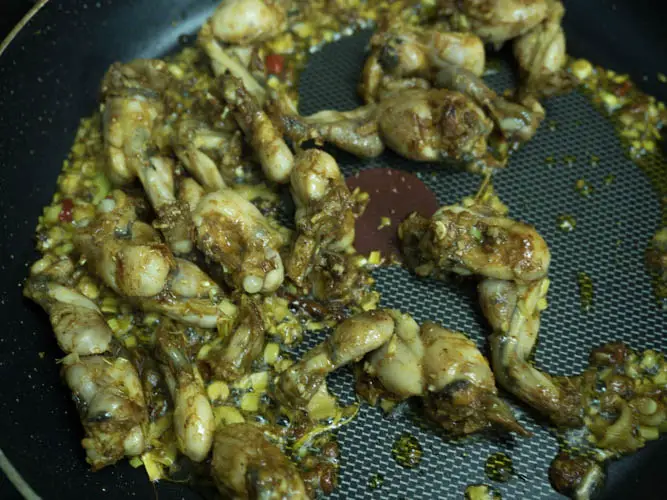 Keep stirring until cooked through, adding the remaining lemongrass and chili in at the end.
Place on a serving plate and make sure you don't leave any of the crunchy bits in the pan!
Serve with rice and a cold beverage.
Enjoy!
P.S. Did you enjoy this post? Receive more straight to your inbox every month by signing up to my monthly newsletter. SPAM free!