Malacca (Melaka) is a city with a fascinating history and the Malacca food is fascinating in itself. Back in the 15th century, Malacca was one of the largest trading ports in Southeast Asia, resulting in the interest of many European powers over the following centuries, each of whom left an enduring imprint on the city.
One of the largest influences on the Malacca food culture and it's history in general was the large influx of Chinese traders and settlers and their marriage to the local Malays. The descendants became known as the Baba (male) and Nyonya (female), the Straights Chinese as well as Peranakans.
The fusion of the Chinese cooking styles (stir-fry, braising) and Malay ingredients (candlenut, lemongrass, coconut etc.) has become known as Nyonya cooking, which has survived to this day, and it is the main reason I came to Malacca.
There are, however, many other cuisines available in Malacca, such as Chinese, Indonesian, Indian, and Portuguese, ranking this city high on the food lover's itinerary.
Jonker Walk (Jalan Hang Jebat)
On Friday, Saturday, and Sunday nights, Jalan Hang Jebat (also known as Jonker Street) is closed to traffic. The shops and restaurants stay open, with stalls set up along both sides of the street selling clothes, jewelry, children's toys, souvenirs, and other knickknacks and trinkets.
However, it is down a few of the side streets that you will find small food precincts, where I took the opportunity to graze my way through a number of different food options.
All manner of barbecued seafood and meat was being offered, as well as satay sticks and crispy chicken chops, to name a couple.
There was even a Satay Celup stall offering you a choice of seafood, meat, and vegetable skewers cooked in a boiling satay sauce and served with additional sauces on the side.
To take care of your thirst, look out for the longan fruit (Matang Kuching) drink stand, where you can get a cup of longan juice to not only help you keep hydrated but also to contribute to your overall health!
Jonker Walk, Jalan Hang Street, Chinatown
Nancy's Kitchen Cooking Class
I arrived at Nancy's Kitchen at 11am for the cooking class at this well-known local Nyonya Restaurant. Given the time of day, I was surprised to see about 20 others milling around the front door.
I assumed they weren't all there for the cooking class and I was right. Nancy's Kitchen is so popular that many people book in for the early sitting.
As it turned out, I was the only person there for the cooking class, which was daunting, in one way, as it meant I couldn't hide in the back if the cooking was too technical. But it was also a blessing as it meant one-on-one time with Nancy, the owner of the restaurant.
Chef Nancy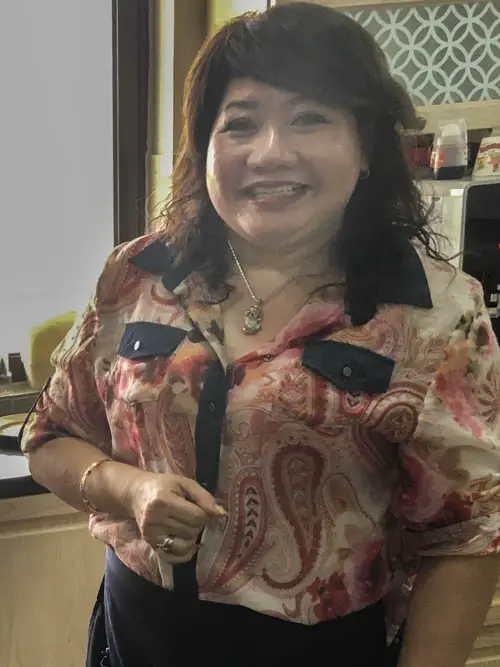 Nancy is a striking woman with a great presence, obvious as she walks through the restaurant. She is also quite talkative, very good at teaching (with the requisite patience in my case), and happy to impart the keys to Nyonya cooking.
The dish I prepared was a restaurant favourite, Ayam Buah Keras, chicken cooked in a candlenut paste. The key to success with this dish is the paste, made with chili, candlenut, lemongrass, fresh turmeric, shallots, and shrimp paste (belacan).
As the paste hits the heated oil in the wok, the aroma is incredible. It isn't long before the paste is "cooked out" and then it's time to add the chicken. After coating the chicken evenly, I then added water and allowed the ingredients to simmer for five minutes until the chicken was cooked through.
The next stage was to balance the sauce, so I added a combination of kaffir leaf, salt, and sugar until the sauce was correctly balanced or, more accurately, until Nancy told me the sauce was correctly balanced.
As part of the class, lunch not only includes the dish prepared, but a soft skinned popiah (they are not served crispy), a plate of greens, and rice on the side.
I was lucky enough that Nancy brought a couple of extra tasting dishes of Chicken/Pork Ponteh (Ayam/Babi Ponteh), which is similar to a British stew, and the Peranakan Chicken Curry (Peranakan Kari Nyonya), a dish of mixed Chinese (garlic and ginger) and Indian (rich and fragrant spices) ingredients with the added touch of coconut milk as a nod to the Peranakan influence.
Overall, the lunch was a taste sensation with a great range of flavours and textures. I learned a lot and left with a greater appreciation of Nyonya cooking and flavours.
Check out the website for Nancy's kitchen here.
Nancy's Kitchen, 13 Jalan KL 3/8, Taman Kota Laksamana, Malacca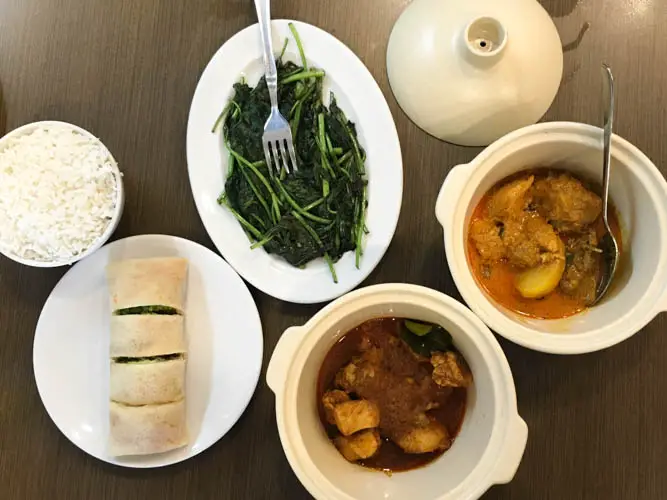 Nyonya Kuih at Baba Charlie
Kuih are bite sized snacks found throughout Southeast Asia. Also known as Kueh, kway, or kue, the term generally indicates a type of cake, dumpling, biscuit, etc., that are usually made from glutinous rice.
Many convenience shops throughout Malacca offer one or more types of kuih, but if you are after a large selection, then a trip to Baba Charlie will keep you happy.
Baba Charlie is far enough out of town that walking isn't an option, so I opted for a taxi. In hindsight I should have hired a bicycle to help work off what I was about to consume.
After walking down a narrow alleyway, you'll come across the entrance. Upon entering, you walk straight into the preparation area where half a dozen staff busily make one of the many goods for sale.
Just off to the side of the preparation area is a room where all the kuih and other items are laid out on a table.
The range of colours and goods on offer were a little overwhelming when I first walked in and I took my time in working out my strategy. Luckily there were tasting packs available, which contained a few each of the different flavoured kuih.
I was also offered some advice from a local who strongly suggested that I try a few of the onde-onde, glutinous rice balls filled with palm sugar and covered in grated coconut.
The highlights from the selection were the onde-onde, with the palm sugar syrup oozing out when taking a bite and the tapioca flavoured kuih, which I enjoyed most with my afternoon coffee.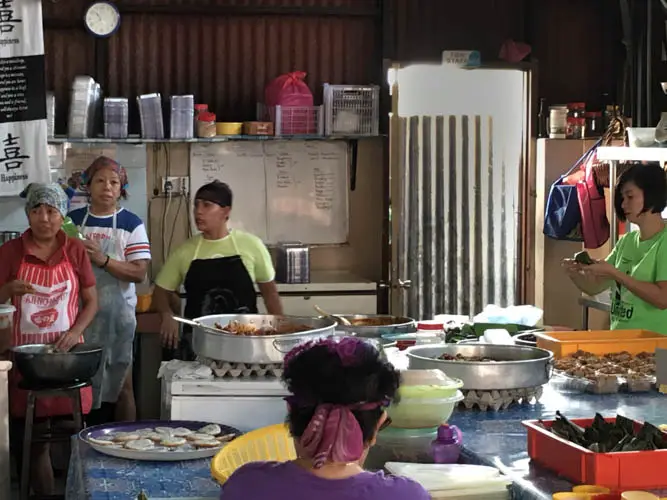 Luckily, the kuih last a couple of days stored in the fridge, which allows you to buy a good tasting selection.
Baba Charlie – 72 Jalan Tengkera Pantai 2
Nyonya Laksa at Café 1511 @ Baba-Nyonya Heritage Museum
The Baba-Nyonya Heritage Museum is located in Chinatown. The site is made up of three terrace houses that were purchased by the Chan family in 1861 and that housed four generations prior to being set up as a museum in 1985.
If you are interested in the Peranakan way of life in Malacca, then I highly recommend taking a tour of this museum, rather than walking through by yourself.
Members of the original family are still running the museum, and one of them will take you on the tour. As well as sharing their family history, the tour includes a look at the way families lived within the house (including a couple of interesting secrets), an explanation of the dress of the time, and a chance to see historic furnishings and even the way the original kitchen was set up in its day.
After the tour concludes, one way out is through Café 1511, a café and bed and breakfast that has been set up in the downstairs section of one of the original terraces.
I took the opportunity to have a late lunch there and ordered a bowl of the Nyonya Laksa. The Nyonya Laksa broth is made with chicken bones and prawn shells, which increases the sweetness of the final dish. The prawns, fish balls, and curry puffs were all delicious in the spicy coconut sauce.
Whilst it is possible to have Nyonya Laksa at many restaurants in Malacca, it made sense to enjoy a bowl after spending the previous hour immersed in the history of the Baba-Nyonya culture.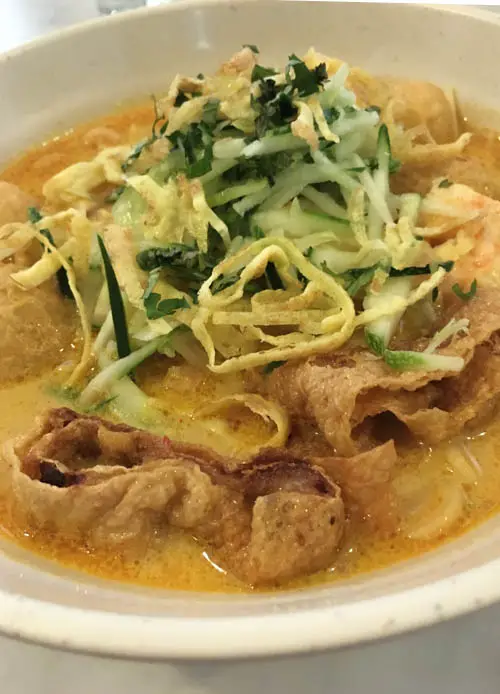 Baba-Nyonya Heritage Museum and Café 1511, Jalan Tun Tan Cheng Lock
Hainanese Chicken Rice Balls at Restoran Famosa
One dish that had me intrigued before I arrived in Malacca was the Hainanese Chicken and Rice Balls. They had appeared on a number of "recommended dishes to try," so, for this dinner in Malacca, I dropped into Restoran Famosa in Chinatown to try it.
Despite it being late, the restaurant was pretty full and I found myself down the back of the restaurant where the ceiling was very high and the ceiling fans turned off, which made it extremely hot and humid.
Normally I would have just moved on to another place, but I had come for the chicken rice balls and could cool off later (see Geographer Café below).
I ordered the roast chicken, green vegetables in oyster sauce, and a serving of the rice balls.
The free-range roast chicken was tender and moist and came with a sauce of soy and sesame. The greens were fine and were served with oyster sauce.
The rice balls, which originate in Malacca, look a lot heavier than they are. Whilst they are not fluffy, they are certainly light and have a nice savoury flavour.
Overall, a nice dish, and one worth trying to "experience" the rice balls.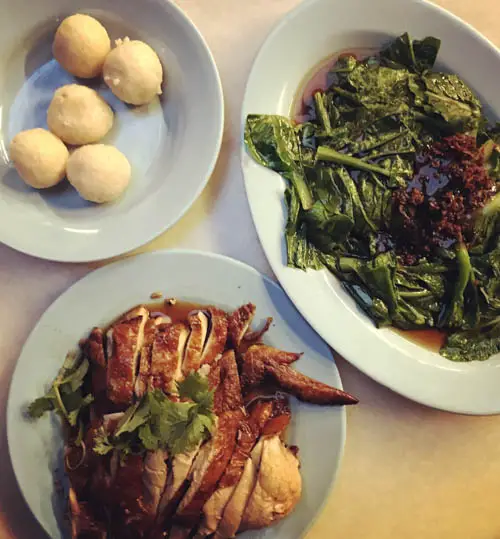 Restoran Famosa, Jonker Street
Also try Chop Chung Wah, also on Jonker Street, which has had some good write-ups.
Malacca's Baba Cendol at Jonker 88 Heritage
Jonker 88 Heritage, found at—wait for it—88 Jonker Street, always has a long line of customers on the weekend when Malacca becomes very busy with weekend visitors.
The restaurant is known for its Laksa and Chendol (amongst other dishes) and on the day I visited the tables were full and the queue was long.
As I was simply here for one of the 14 desserts, I didn't worry about finding a table. I ordered the Baba Chendol and found myself a spot against the wall with a small ledge and tucked in.
The simple pleasure of the Baba Chendol is the covering of Gula Malacca, a sweet, thick syrup of melted palm sugar which leaves a delicious caramel flavour over and through the shaved ice.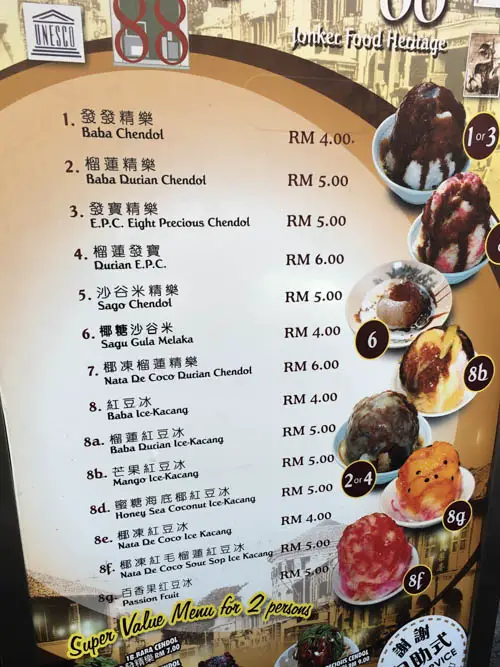 Jonker 88 Heritage, 88 Jonker Street
Tip: If dining with a few people, the best tactic is to find a table first, then have someone stay at the table as the others order meals at one of the various stands.
Geographer Café
Technically, the Geographer Café could appear here as a food destination, as I did enjoy a delightful chicken curry on my first night. However, I've included this café on the list as it became my regular nighttime destination after a heavy day of eating and sightseeing.
The café sits on the corner of Jonker Street and Jalan Hang Lekir, and at night it turns into a casual bar with terrific music and a very friendly atmosphere. The two sides of the bar open up onto the streets, which not only allows a much appreciated breeze to flow through, but also the opportunity to sit back and take in the surrounds.
Geographer Café, corner of Jonker Street and Jalan Hang Lekir
The above list only touches the surface of the many food options in Malacca, and I wish I had more time to indulge.
If you're looking for more inspiration on visiting Malaysia check out http://travel-ling.com/10-reasons-visit-malaysia/
P.S. Did you enjoy this post on the food experiences in Malacca?  If you'd like to be kept up-to-date with my new food related posts, sign-up for my monthly newsletter below.