When it comes to the famous must-try Penang hawker food, there is no shortage of quality options available. As a result, the competition is fierce which means the quality of dishes is outstanding.
As I've written before, to help me research this important topic, I joined the "Penang Hawker Food" Facebook group and reached out to the group members for recommendations on where to try the most famous hawker food dishes.
The response was amazing and I've tried to provide as many recommended places to eat as I can! I really enjoyed my hawker food exploration in Penang and hopefully the information below will provide you with a foundation for your hawker food journey. Enjoy!
13 Famous Must-try Penang Hawker Food
Penang Assam Laksa
On my latest visit to Penang, the first hawker food dish I sought out was the Penang Assam Laksa. It is arguably Penang's best known hawker dish and one you need to try.
A spicy and sour soup, the key ingredients include thick rice noodles, hot tamarind (for the sourness), flaked fish (usually mackerel), and a mixture of finely sliced onions, cucumber, red chili, lettuce, pineapple, sweetened prawn paste, mint, and the bud of the torch ginger flower, locally known as bunga kantan.
Some locals prefer this dish without the addition of the prawn paste, as they believe it makes the dish too sweet.
Where to try:
Kek Seng Café, 382 & 384 Jalan Penang, George Town. Open daily 9.00am to 5.00pm.
Indian Laksa, One Corner Café, Jalan Bawasah, George Town, Open daily 12.00pm to 5.00pm
Char Koay Teow
Char Koay Teow, which roughly translates as "fried flat noodles," is another famous Penang specialty. The flat rice noodles are stir-fried with prawns, bean sprouts, cockles, eggs, chives, and slices of lap cheong (Chinese dried sausage) in a mix of soy sauce, chili, and sugar.
The key to a great Char Koay Teow is the wok hei, the smoky and heavenly charred aroma imparted by a well-seasoned wok over high heat.
Where to try:
Red Hat Lady @ Heng Haut Café, Lorong Selemat. Open 11.00am to 6.00pm, closed Tuesdays.
Siam Rd Char Koay Teow, Jalan Siam, George Town. Open 3.00pm to 11.00pm, closed Mondays.
Note: this stall was recently voted one of the 50 best street food vendors at the World Street Food Congress held in Manila. The queue forms early well before the owner arrives.
Wantan Mee
Wantan Mee is a delicious noodle dish that can be served dry, with noodles soaked in a dark soy-based sauce, or as a soup made with chicken or pork broth.
The dish is traditionally served with char sui (barbecued pork), leafy green vegetables, pickled chilies, with juicy wantans served either on top of the noodles, or in a small bowl of broth to the side.
Where to try:
Chowrasta Market Food Stalls, 1-33, Jalan Chowrasta, George Town. Open 6.30am to 11.00am.
Wantan Mee Stall, Lebuh Chulia (near Lorong Cheapside), George Town, Open 6.30pm to 11.30pm. Closed Mondays.
Koay Teow Th'ng
I've read that many Penangites consider Koay Teow Th'ng as a comfort food and it's easy to see why. This delicious soup is made from flat noodles, chunks of pork, pork lard, eel balls, and lettuce, served in a flavourful broth.
I found this soup surprisingly refreshing with the broth being light and the eel balls adding a sweet note.
Note: There is also a version of Koay Teow Th'ng which is made using duck meat, which can be found at many cafes and markets.
Where to try:
Cecil Street Market, 40-48 Lebuh Cecil, George Town. Open 7.30am to 7.00pm
Pitt Street Koay Teow Th'ng, Lebuh Carnarvon, George Town. Open 8.00am to 2.00pm, closed Sundays and Mondays
Chee Cheong Fun
Chee Cheong Fun is a popular Penang snack. The dish is made from slices of steamed rice noodle rolls that are drizzled in a range of sauces. In Penang, a sauce made from shrimp paste is the most widely used although you can sometimes find sweet and chili sauces as well.
Toasted sesame seeds are sometimes added for a little extra crunch.
Where to try:
Seow Fong Lye Café, 94 Lorong Macalister, George Town. Open 7.30am to 12.30pm.
Sin Kim Sun Coffee Centre, 168 Jalan Macalister, George Town. Open 5.30pm to 2.00am.
Hokkien Mee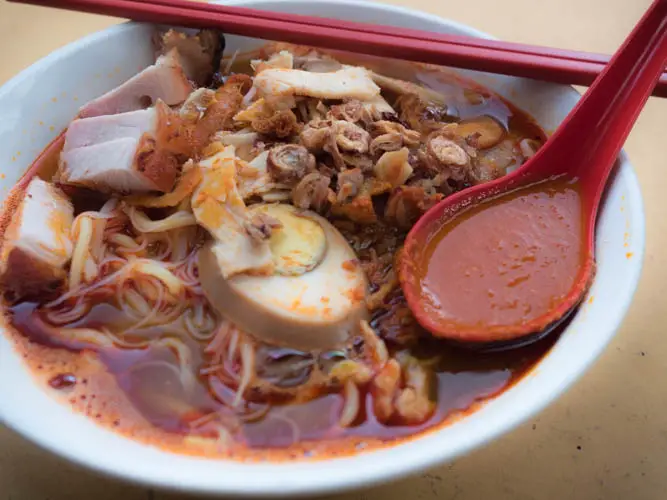 This version of hokkien mee is particular to Penang and is a kick-arse bowl of noodle soup. In fact, if I had to choose my favourite dish to eat in Penang, I'd be hard pressed to go past this one.
The broth base is made using prawns and pork bones and is rich and spicy and a deep red in colour. Two types of noodles are used and chunks of pork are added along with egg, greens, fried onions, and chili. Quite amazing.
Where to try:
888 Hokkien Mee, 67A, Lebuh Presgrave. Open daily 3.00pm to 11.45pm.
Note: I arrived at 3.00pm and it didn't take long before a queue formed.
One Corner Café, 4 Jalan Bawasah, George Town, Open daily from 7.30am, closed Tuesdays.
Curry Mee
Curry Mee is a thick curry and coconut milk based soup, typically consisting of two types of noodles, bean sprouts, egg, coagulated pig's blood, cockles, cuttlefish, prawns, bean curd, mint leaves, and chili paste.
I first tried this dish for a late breakfast after spending a couple of hours exploring the Pulau Tikus Market, which is across the road. It was quite hearty and filling and set me up for the day!
Where to try:
Sip Hun Aun Café, 17 Jalan Pasar, George Town, opposite Pulau Tikus Market. Open 6.00am to 10.00pm, closed Tuesdays.
New Cathay Café, 425E Jalan Burmah, George Town, Open 7.00am to 2.00pm, closed Sundays
Nasi Kandar
Another well-known dish in Penang is Nasi Kandar. This dish is made up of steamed rice (Nasi) and served with your choice of a variety of meat based curries, vegetables, and other sides such as prawns and fried chicken.
This is a great place to go if you have a large appetite as there are usually many different meats and other sides to try. One of the keys to a great Nasi Kandar, as told to me on a number of occasions by the locals, was to ensure there is a generous amount of the delectable curry sauce poured over the entire dish.
Where to try:
Nasi Kandar Line clear, 177 Jalan Penang, George Town, Open 24 hours
Note: Nasi Kandar Line Clear was voted one of the top 50 street food vendors at the World Street Food Congress (2017) held in Manilla, Phillipines.
Restoran Tajuddin Hussain, 49 & 51 Lebuh Queen, George Town, Open 11.00am to 3.30pm, 6.30pm to 10.00pm, closed Sundays
Fried Oyster Omelette
A plate of Fried Oyster Omelette is one of the more iconic street foods in Penang, and one I enjoyed on a number of occasions.
The dish is made by adding fresh oysters to an omelette mix of eggs, rice flour, chives, and starch. The mixture is then fried on a flat griddle and served with chili sauce and a garlic paste dip. Delicious!
Where to try:
Padang Kota Lama (Esplanade Food Court), Jalan Tun Syed Sheh Barakbah, George Town, Open 8.00am to 12.30am.
Note: To book ahead — call 0164868128 half an hour before; otherwise, the wait will be a long one.
Pulau Tikus Night Market, Jalan Burma, Pulau Tikus, George Town, Open 4.00pm to 10.30pm, closed Wednesdays and Thursdays
Popiah
Popiah, or fresh spring rolls, is easily one of my most favourite Malaysian snacks, and it was certainly no different here in Penang, where they can be found everywhere.
To make a popiah, a wheat flour wrapping is filled with a blend of ingredients which include hoisin sauce, chili sauce, fried turnips, jicama, bean sprouts, grated carrots, lettuce leaves, sliced tofu, sliced tofu, chopped peanuts, fried shallot, and shredded omelet. Hungry for one now!
Where to try:
Joo Hooi Café, 475 Jalan Penang, George Town. Open 11.00am to 5.30pm.
Padang Brown Popiah, Jalan Perak, George Town Open 2.00pm to 10.00pm, closed Thursdays
Satay
When visiting a night market, the first thing I usually notice is the aroma of meat skewers being grilled over charcoal. The flames and smoke are given given a burst by a wave or two of a hand held fan, giving the air that unmistakable draw card.
Satay vendors are a mainstay of all night markets, and many hawker centres, with grilled meat choices including chicken, beef, mutton, and goat. Once grilled, the meats will be accompanied by sauces, with a rich peanut sauce being my favourite.
Where to try:
All night markets and many hawker centres.
AIS Kacang
Ais Kacang is a popular Malaysian dessert made with shaved ice, red beans, palm seed, sweet corn, agar agar jelly, and evaporated milk, condensed milk, or coconut milk.
Throughout Penang there are many variations; however, the version I tried at Kek Seng Café included two scoops of durian ice cream, which was fantastic. Highly recommended!
Where to try:
Kek Seng Café. 382 – 384 Jalan Penang, George Town. Open 9.00am to 5.00pm.
Batu Lancang Market Food Court, 22 Lintang Batu Lancang, Jelutong, George Town, Open 11.00am to 6.15pm
Cendol (Chendul)
One of the best ways to beat the heat in Penang is to eat a bowl of Cendol. In fact, for me, this became a "must-do" when I was out and about on a hot day in Penang.
This dessert often consists of green jelly noodles made with rice flour and green food coloring along with green kidney beans immersed in shaved ice and finished off with a drizzle of coconut milk and palm sugar. So refreshing!
Where to try:
There are two cendol stalls at the beginning of Lebuh Keng Kwee. Penang Road Famous Teochew Chendul, which always has a queue, and Teo Chew Cendol. I enjoyed both just as much! Open 10.00am to 7.30pm daily.
P.S. If you found this post useful then sign up to my newsletter so you don't miss out on future guides.