One of the best ways to experience the vibrancy of Saigon is to visit one of the many markets located throughout the city.
From the tourist-centric Ben Thanh Market in District 1, to Binh Dien, the mega seafood wholesale market located on the outskirts of the city, you will find a market to cater for your tastes.
I've narrowed the options to my favourite five markets.
Ben Thanh Market
No list of markets in Saigon can be complete without Ben Thanh Market.
Ben Thanh Market is Saigon's best known market and is situated in the centre of District 1, putting it within easy walking distance for most visitors staying in central Saigon.
As touristy as it is, Ben Thanh is still a good place to go for jewelry, clothes, shoes, bags, artwork, and a wide range of souvenirs. The stall holders will always start with a highly inflated price, so you will need to keep your sense of humour and bargain hard.
Not to be dismissed though are the food sections. Early in the morning will see the meat and fish stalls, and the fruit and vegetable stalls, bustling with activity. Freshly made noodles, rice, and other cooking essentials are available, as well as great Vietnamese coffee.
If you're hungry, there is a wide variety of eating options located in a central area, where locals and tourists alike will be trying one of many local dishes made to order. Choices include Pho, Hu Tiu, Goi Cuon, Banh Xeo, and Banh Coun, to name a few, and this is a great way to acquaint yourself with Vietnamese cuisine.
Tip: At night, the surrounding streets are closed to traffic and transformed into a lively night market, where you can come and enjoy some great street food and a cold beverage.
Read more about my visit to the market when I went as part of a guided tour with the Vietnam Cookery Centre.
Binh Dien Wholesale Market
On the outskirts of Saigon lies a massive wholesale market, a complex with huge warehouses for meat, fruit and vegetables, flowers, and seafood.
If you're a fan of large seafood wholesale markets, Binh Dien will be top of your list as it takes two huge warehouses to contain all the various types of shellfish, crustaceans, cephalopods (octopus/squid), and different types of fish.
The seafood is sourced from rivers, beaches, and fish farms all over southern Vietnam, as well as from large hauls from the East Sea and the Gulf of Thailand.
Some of the highlights worth seeking out include the lively prawn auctions, the bubbling vats of live fish, sting rays, and the shellfish section, where there is an incessant noise of clams and snails being shaken back and forth in metal graders.
All activity happens at night. Fresh seafood is delivered to the market during the evening and steadily sold overnight until stocks are gone—generally before first light. On our visit, many stalls had sold out by 4 a.m.
Tip: In the shellfish section, look out for the amazing varieties of snails, some the size of your hand.
For a more detailed look at the inner workings of Binh Dien, with plenty of photos, click here.
Binh Tay Market
If you are looking to experience a large market without tripping over tourists, catch a taxi to the edge of District 6, where you will find Binh Tay Market.
Located in Saigon's Chinatown (Cholon), Binh Tay Market is more of a wholesale market where you can buy all manner of goods and produce in bulk.
On the ground floor, stalls are mainly dedicated to food items such as sweets, dried fruits and meats, dried seafood, rice, noodles, and even large tubs of pickled vegetables. If you're a fan of nuts or mushrooms you're in luck, as the variety of both is extensive.
Also on the ground floor, at the back of the market, is the "wet" section. Peak activity, as with all similar markets, is early in the morning where you will find the usual meat and seafood stalls. In addition, given its proximity to Chinatown, there is an increased availability of cooked duck and pork.
For the hungry, you will find the food stalls adjacent to the "wet" market. Here there are quite a few good eating options with a slight slant toward Chinese dishes.
Upstairs is a maze of alleyways where clothes, bags, shoes, and household items can be found. The pace is particularly slow and there aren't many customers.
Although the surrounding streets are heavy with motorcycle activity, inside the atmosphere is less frantic than at some markets, and it is a nice experience to be able to stroll through the market.
Tip: When you need a break, head to the centre of the market where there are a few seats and an alter to Quach Dam, who provided the financing for the market when it was built.
Read and see more about my visit to Binh Tay Market.
Ho Thi Ky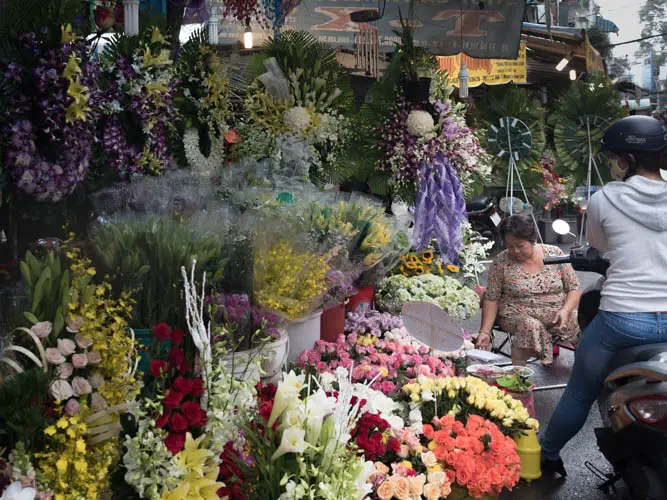 Located in District 10, Ho Thi Ky is a 24-hour wholesale flower market, made up of dozens of stalls lining a number of alleyways off the central Ho Thi Ky street.
If you arrive early in the morning, you will see Ho Thi Ky at its best as the market is in full bloom, with flowers and foliage of all colours, shapes, and sizes on display. The air is filled with their beautiful scents.
This is one of the nicest places to take a leisurely stroll, with everyone seemingly happier and more relaxed here than at your average market. It must be because of the flowers.
The array of flowers is quite spectacular and the prices very low.
Tip: If you're hungry, on the street (to the west) running parallel to Ho Thi Ky, there is a small market and quite a few interesting eating options.
I went to Ho Thi Ky to buy a bunch of flowers for a friend's mother. It didn't end as expected, and you can read what happened here.
Cho Rach Ong
Located in District 7, Cho Rach Ong is a market catering essentially for locals.
Inside the main building you will find stalls selling bags, clothes, and bathroom and kitchen items, alongside other grocery type items. Close by are stalls with noodles, rice, sweets, nuts, and dried fruits. The meat section has the "nose to tail" philosophy fully on display, and the fish section is well-stocked.
However, the market is not contained within the main building, with the surrounding streets and alleyways filled with small vendors. Using makeshift stalls of nothing more than a tarp or a couple of iced buckets, they sell a variety of fruits, vegetables, seafood, and herbs, with what seemed like a dozen small vendors selling live frogs.
There is a very pleasant atmosphere you sense while walking around this market, with a constant sound of chatting and laughter, and it seems more like a social get together than a commercial hub.
Tip: On the street outside the back of the market, there is a lady selling fresh pineapple juice that was as tasty as any pineapple juice I've had before.
I visited this market with my local friend Trinh, where we bought the fresh ingredients for a frog legs, lemongrass, and chilli dish. You can see more of the market here, as well as the recipe for the frog legs dish.
P.S. Did you find this post useful? If so, pop your details into the box below and get all my posts direct to your inbox – spam free!
P.P.S Looking for recommended hostels during your stay in Vietnam? Head over to here to find a selection from the blog A Mary Road.