I had been invited to visit a friend's family home for lunch one day and wanted to take a nice bunch of flowers along to show my appreciation to her mother, who would be preparing the food. So, a visit to Ho Thi Ky, Saigon's wholesale flower market, located in District 10, was in order.
I had actually been wanting to visit Ho Thi Ky as part of my upcoming post, "Top Markets to Visit in Saigon," so the timing was perfect. As opposed to most markets I visit, it wasn't food based; however, I was in for a little surprise — but more on that later.
Ho Thi Ky Flower Market
When the taxi dropped me off I wasn't sure I'd arrived at the right place. The address was right but the street was empty, and it took a little while before I came across a few small shops with hardly an abundance of flowers for sale.
To be honest, I hadn't actually read anything about the market before arriving and I had in my mind a large, centralised square market filled with flower shops.
However, after continuing to walk down Ho Thi Ky, the main street running through the middle of the market, it quickly became apparent that this market is actually made up of dozens of flower wholesalers lining narrow alleyways.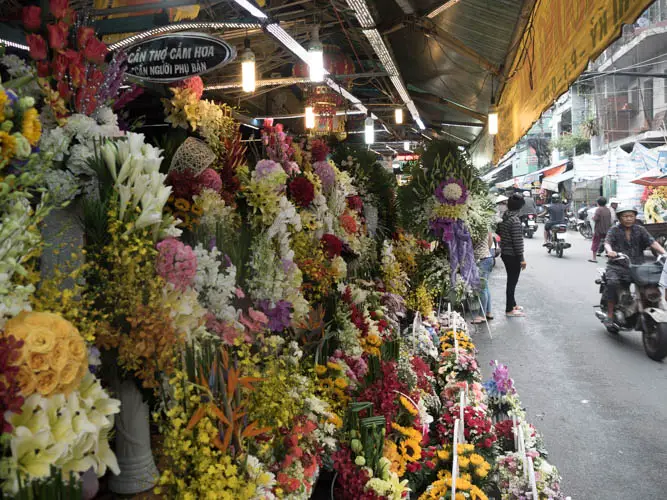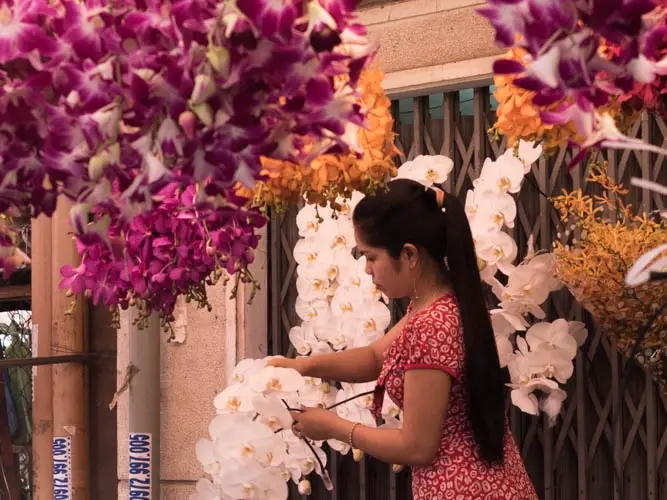 Normally, the best time to be at Ho Thi Ky would be early in the day when the supply is highest and activity is at its peak. However, as I was planning to head straight to lunch after visiting the market, I arrived mid-morning.
As the hustle and bustle had subsided, it gave me a chance to wander through the maze of alleyways, stopping to take in the surrounds without getting in the way, which I managed to constantly do when I visited Saigon's wholesale seafood market, Binh Dien.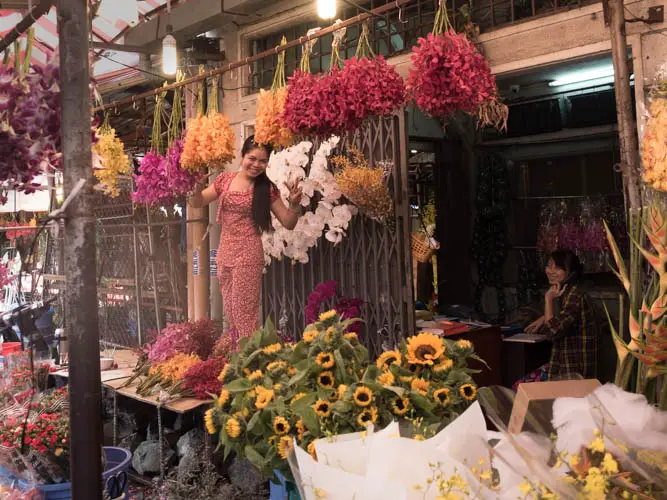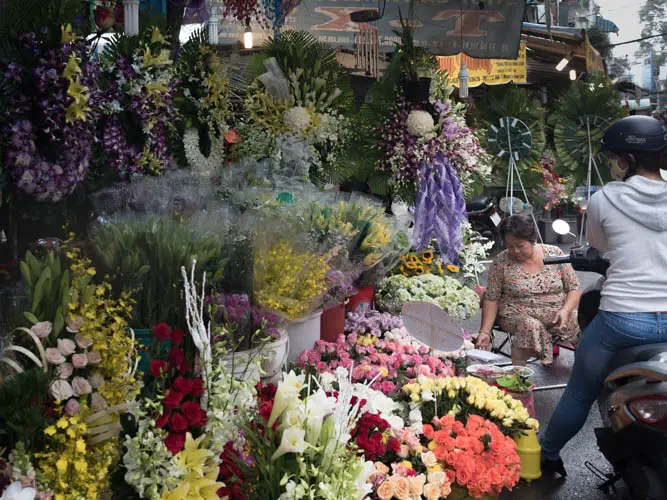 It should probably go without saying that the array of flowers was quite remarkable and the prices equally so. At each stall I found the perfect bunch of flowers to take with me to lunch, but thought it would be easier to buy them later so I didn't have to carry them with me as I explored.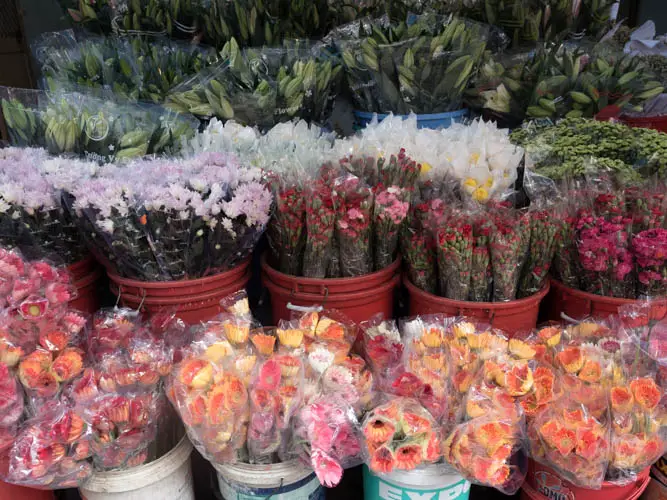 By now I'd been through most of the market and figured it was now time to buy the flowers. It was then I thought I saw, at the end of one of the narrow alleyways, dried fish hanging down from a small shopfront.
Having a bit of time up my sleeve, naturally, I had to explore and took off to see what else might be there.
It turned out that there was a small wet market selling the usual array of fresh fish, meats, vegetables, fruits, and herbs. I figured it was too good an opportunity to pass up, so I headed off down the alleyway to see what they had on offer.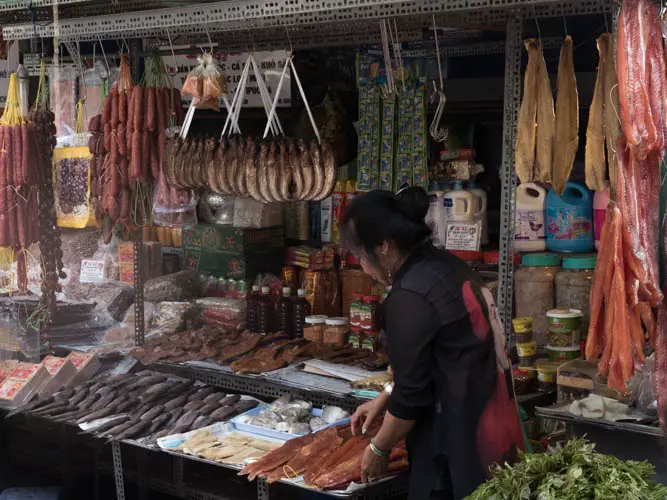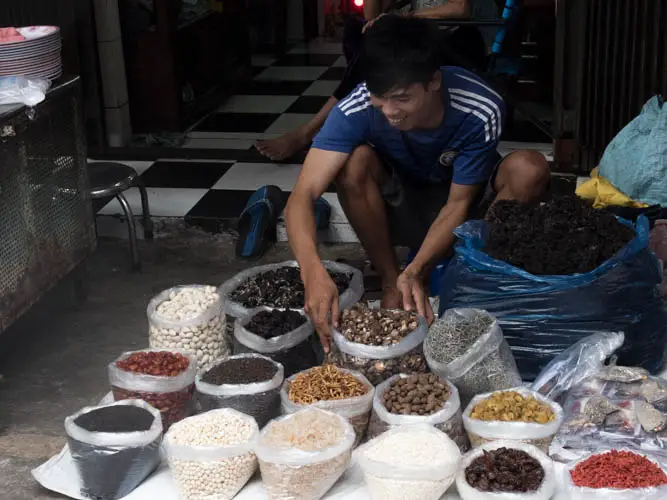 At one point I realised I had probably spent enough time here and headed back to the flower market to take care of the reason I was here — to buy some flowers!
As I came out of the alleyway, I noticed a coffee stand with a few spare chairs, and figured a quick coffee couldn't hurt.
As I was heading there, I walked past a small stand with a lady making what appeared to be sweet snacks. She was pouring a thin batter over a charcoal heated hotplate, making very thin crepes, then filling them with a few different ingredients out of small containers before rolling them up ready to eat.
Although I didn't get a chance to see what was in the the filling, I bought two anyway to have with my coffee. Turned out to be a great combination. I would have gone back for more but I didn't want to spoil lunch.
Just as I was finishing my coffee, I received a text from my friend, checking that I was going to be on time for lunch. It was then I realised I'd be cutting it fine if I stayed any longer, so I settled up the bill and headed off in search of a taxi.
Fortunately, a taxi came along quickly, meaning I would make lunch on time.
Unfortunately, and it took me quite a while to realise, I'd forgotten to buy the flowers.
Where: Ho Thi Ky Wholesale Flower Market is located in District 10, off Ly Thai To.
Are you planning a family trip to Vietnam? Then check out this Family Friendly Itinerary where you will find heaps of tips for family friendly places to stay and family friendly activities.
P.S. Did you enjoy this market related post? Sign-up and I'll send more awesome posts like this straight to your inbox every month. SPAM free!